Growing to Better Serve You
You asked for more banking access, and we listened – get ready to enjoy greater convenience from dedicated financial experts centrally located within the Twin Cities in Golden Valley coming early 2023!

Be sure to check back here for Branch updates, special offers, Grand Opening celebrations, and team spotlights.
Convenient Credit Union Access
Centrally located in the Twin Cities, just 5 miles from downtown Minneapolis and 16 miles from St. Paul.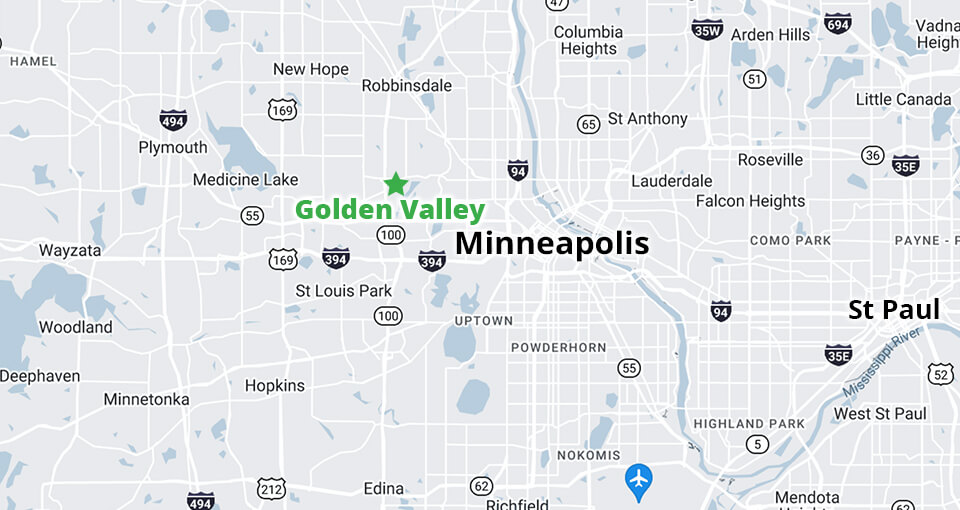 Here Today for Your Tomorrow
Goal Consultants
Practical savings and credit score guidance from a certified expert.
Free Credit Score
Monitor your credit report, credit score, and security on-the-go.
2-Minute Financial Checkup
See where your financial health stands and get personalized next steps.
Frequently Asked Questions
Can my family members join?

Individuals who are the immediate or extended qualifying family of an existing member related by blood, marriage, fostering, or adoption can join the Credit Union. Eligible family members include spouses, parents, children, siblings, domestic partners, grandchildren, grandparents, aunts, uncles, nieces, nephews, and cousins.

Where are you located and when will you open?

The Golden Valley Branch is located at 650 Douglas Drive Golden Valley, MN 55422 and will open early 2023.

Who has access to the Golden Valley Branch?

The Golden Valley Branch is available to existing Credit Union members, employees of our Company Partners, and eligible family members of existing members. This includes all existing Credit Union members listed on our Membership Eligibility page.

What if I have or open an account and then move or leave my company?

Once a member, always a member! The benefits of Credit Union membership will always be available to you and your family, no matter where life takes you. Relocating to a new area? No problem! Changing jobs? The Credit Union goes with you. Retiring? We're Here Today For Your Tomorrow. Our commitment to your financial well-being is truly a lifelong promise. We're accessible 24 hours a day in all 50 states and abroad using Digital Banking.