Top-Rated HomeAdvantage® Agents on Navigating Current Homebuying Market
July 27, 2022
CHICAGO – The current home-buying market can feel intimidating, even with the guidance and services of BCU. We sat down with two of our top-rated HomeAdvantage® experts to help answer your questions.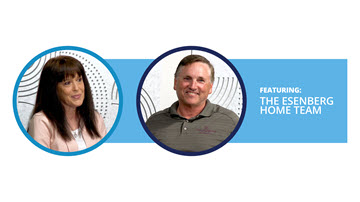 Mike and Sherri Esenberg, parents of BCU Director of Integrated Marketing, Erin Macasek, share a combined 30+ years of residential real estate experience. For the last eight years, The Esenbergs – including their other daughter Lauren – have been serving BCU members as part of the Credit Union's HomeAdvantage® program. Most recently, the Esenberg team was recognized as Crain's Chicago Business Notable Residential Real Estate Brokers for 2022, making them the perfect agents to answer members' home-buying questions.
Watch the videos here, or read on:
What is the HomeAdvantage® Program?
Mike: The HomeAdvantage® Program is a great opportunity for members to connect not only with a BCU loan officer that can help them with their mortgage, but with real estate agents that have already been approved by the HomeAdvantage® Program. It's a great comfort level for members. Knowing they've got a real estate agent who can guide them through the process is a great benefit for someone who is about to make one of the biggest purchases of their life. As an added bonus, the program gives members an average of $1,771* in cash rewards either in cash back, or as a closing credit.
What advice can you give for making a more competitive offer on a home?
Sherri: The market is a roller coaster of emotions at the moment, which can be very hard for buyers making one competitive offer after another. You just have to keep at it. We're there to provide guidance and help you make smart moves. It's a good idea to talk with your BCU loan officer and realtor about your comfort level, financially, and weigh the risks before making an aggressive offer.
Is a contingency good or bad in this market?
Mike: Unfortunately, a contingency such as having to sell your current home first can be an obstacle in this market. To most sellers, a contingent offer won't look as enticing as a non-contingent offer. That said, we have helped several folks buy a home despite having a home sale contingency. We can work with your loan officer on strategies to avoid this contingency; whether that be selling your home first if closings align, or if you can move in with a family member for the time being or talking to your loan officer about a bridge loan. A bridge loan is a way for you to leverage the equity in your house to make an offer on a home that's non-contingent, then you'll pay back the bridge loan once you've sold your house.
Should I waive a home inspection?
Sherri: We see this a lot, and it's great from a seller's standpoint, but no matter the type of home you're purchasing, I would not advise our clients to waive a home inspection. Instead, buyers can sign an "As-Is" clause, meaning they are allowed to perform the inspection but waive their right to ask the seller to fix any resulting issues. This will enable a buyer to back out of a deal if serious issues are found during the inspection that the buyers were not aware of when making their offer.
How long could rates continue to rise?
Mike: Without being able to predict the future, it's hard to say. We know rates have already begun to rise, causing some buyers to pause their home search. However, others are willing to overlook the recent rise and acknowledge that rates are still low, historically, and are looking to buy before rates increase even more. I do believe the market will cool off if rates continue to trend upward.
Sherri: We've also seen buyers work with their loan officers to get creative with financing. Choosing a shorter, adjustable-rate mortgage (ARM) with a lower interest rate, for example.
What should I know before I retire or move out of state?
Mike: If you are moving out of state for any reason, it's generally important to make sure you are confident in your decision. We've seen people move out of state only to move back a few years later, unhappy with their new environment. If you're looking to move, I'd recommend visiting for an extended period or renting first to get acclimated.
What is the SmartBuyer™ Program?
Sherri: The program is intended for first-time homebuyers who can put as little as 3% down. They do not have to pay private mortgage insurance (PMI) which, in a typical loan with a down payment of less than 20%, can be an additional $100-$200 per month. Because of this, the SmartBuyer™ Program allows first-time homebuyers to put a little more money toward the purchase of their home.
*Combined cash reward savings calculated based on 3,267 home closings wit ha real estate agent in the HomeAdvantage® network of approved agents between 4/1/2020 - 12/31/2021.
About BCU: BCU is a purpose-driven organization that empowers people to discover financial freedom. With $5B in assets, while being both not-for-profit and member-owned, the Credit Union is driven by the commitment to provide extraordinary service. BCU members enjoy access to financial services and well-being programming that inspire confidence through the brand promise "Here Today For Your Tomorrow." BCU is the financial well-being benefit partner for some of America's best companies, currently serving Fortune 100 workplaces throughout the United States and Puerto Rico. Lifetime membership is offered to employees and families of their company partners, and those living or working in Chicago-area communities. To learn more about BCU, visit BCU.org.