BCU Partners With Cristo Rey High School for Win-Win Corporate Work Study Program
February 10, 2022
Chicago - BCU recently partnered with Cristo Rey St. Martin College Prep High School in Waukegan, IL to participate in the school's Corporate Work Study Program (CWSP) to help mentor and develop high school students.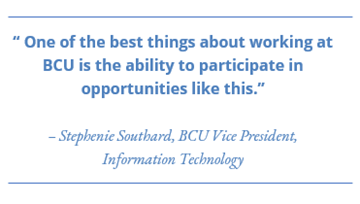 Through the program, Cristo Rey students in grades 9-12 spend one day per week developing their professional skills by working at a CWSP partner's site. BCU has a team of four Cristo Rey students working in the Card Services and IT departments, earning a salary that goes directly toward paying their tuition for the private, Jesuit college prep high school.
"The students help us out tremendously," Jorge Hurtado, Director of Consumer Lending Operations at BCU, said. "They're quite impressive and bring ideas to the table that provide a whole new perspective that we can't get anywhere else. That's invaluable because soon, they and their generation will be our members."
Hurtado also said he wants his students to work closely with auto loans and titles because they'll gain knowledge to use in the real world. Additionally, the students are able to connect with employees who joined BCU right out of college to illustrate the variety of opportunities available after graduation.
Stephenie Southard, BCU's Vice President of Information Technology, shared Hurtado's sentiment. "The experience has been great for everyone involved and the students are more than willing and do whatever is requested of them," she said, adding that, "One of the best things about working at BCU is the ability to participate in opportunities like this."
Typically, students stay with a business partner for two years, allowing the relationships and responsibilities to evolve. "What's really remarkable is that 50% of students who work for a business partner come back to work for that same company in the future," Brian Weinberg, Cristo Rey's Director of Corporate Work Study Program, said. "These students gain knowledge and skills from the CWSP that will follow them throughout their college and professional careers."
The only request the school makes of their CWSP partners is to provide mentorship and work experience for the students; the school takes care of all administrative aspects, including their transportation to and from work, payroll, taxes and workers compensation. They also send students through an extensive business training program the summer before 9th grade, providing guidance on everything from proper work attire to the importance of a firm handshake and showing up on time.
"This is a fantastic program that is a great way for us to be involved in the community," said Lisa Baron, Chief Human Resources Officer at BCU. "Our purpose to Empower People to Discover Financial Freedom starts with young adults like these who are helping to shape the future."
About BCU: BCU is a purpose-driven organization that empowers people to discover financial freedom. With $5B in assets, while being both not-for-profit and member-owned, the Credit Union is driven by the commitment to provide extraordinary service. BCU members enjoy access to financial services and well-being programming that inspire confidence through the brand promise Here Today For Your Tomorrow. Lifetime membership is offered to employees and families of America's best workplaces and those living or working in Chicago-area communities. To learn more about BCU, visit BCU.org.