BCU Launches Elevated Digital Banking Experience
July 27, 2022
CHICAGO – In October 2021, BCU announced its partnership with Lumin Digital to provide an enhanced Digital Banking experience for members. This past Tuesday, July 19, 2022, the upgrade to the Credit Union's online and mobile banking was rolled out to 300,000+ members, offering easier money movement, greater personalization, advanced security, faster navigation, and more. Early testers of the platform called it "user-friendly," "efficient," and, "easy and intuitive."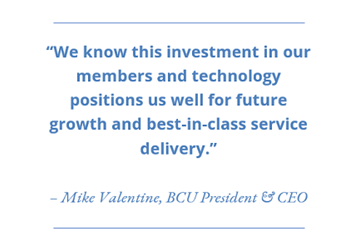 "We consistently aim to push boundaries in the digital space," said BCU Senior Vice-President Digital Strategy and Delivery, Carey Price. "Digital Banking is our largest self-service tool, with nearly 80% adoption across our membership," Price continued. Users can expect a seamless experience between desktop and mobile devices. New functionality also includes enhanced debit and credit card controls and alerts, access to helpful resources via the Financial Learning Center, greater dashboard and account personalization, access to investment accounts and student loans, and much more.
"A new, personalized interface accompanies the new functionality, and members will find that while it feels familiar – it's also more powerful and user friendly," said BCU Senior Vice-President and Chief Technology Officer, Scott Zulpo. Existing features such as account and dashboard navigation, transfers, payments and deposits, among many others, now perform at a higher level. Advanced security helps members protect their information and feel safer than ever when banking online or from a mobile device. Enhanced Financial Wellness Tools allow members to conduct a regular Financial Wellness Checkup and review their Spending Analysis and Spending Forecast based on automatic transaction categorization.
The new platform ultimately provides an intuitive, self-service experience that allows BCU members to more easily customize and navigate their accounts online and allows employees to continue focusing on our purpose of Empowering Members to Discover Financial Freedom. "We know this investment in our members and technology positions us well for future growth and best-in-class service delivery. The entire BCU team looks forward to life with Lumin. I couldn't be more pleased to offer this enhanced experience to all our members and I'm grateful to everyone who supported this upgrade," said Mike Valentine, BCU President and CEO.
To learn more about BCU's Elevated Digital Banking experience, visit BCU.org/Elevate.
About BCU: BCU is a purpose-driven organization that empowers people to discover financial freedom. With $5B in assets, while being both not-for-profit and member-owned, the Credit Union is driven by the commitment to provide extraordinary service. BCU members enjoy access to financial services and well-being programming that inspire confidence through the brand promise "Here Today For Your Tomorrow." BCU is the financial well-being benefit partner for some of America's best companies, currently serving Fortune 100 workplaces throughout the United States and Puerto Rico. Lifetime membership is offered to employees and families of their company partners, and those living or working in Chicago-area communities. To learn more about BCU, visit BCU.org.