BCU Earns Trio of MAC Awards for Creative Marketing Initiatives
August 8, 2022
CHICAGO – BCU takes home back-to-back design awards in recognition of its Marketing deliverables at the annual Marketing Association of Credit Unions (MAC) Awards. Winning gold and bronze awards in the Annual Reports and Business Development categories for institutions $1B and greater, each project captures BCU's purpose of Empowering People to Discover Financial Freedom.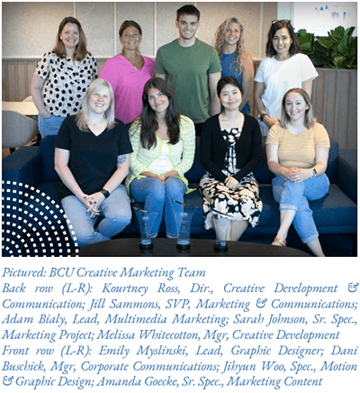 The Credit Union's Annual Report is distributed primarily in digital format and includes a Year-in-Review video that provides members and business partners with a year-end financial update. "2020 was difficult for many of our members," said Melissa Whitecotton, BCU Manager, Creative Development. "While navigating the challenges of a global pandemic and the accompanied financial uncertainty, we wanted to let our members know that their financial well-being was BCU's top priority," continued Whitecotton. The digital report and video were shared via email with BCU's entire membership base.
In the Business Development category, BCU was recognized for its 2021 'Manifest Your Money' mailer. The campaign encouraged employees and existing members of one of the Credit Union's Company Partners, Hillrom, to join or deepen their engagement with the Credit Union. To showcase how BCU's products and services can help empower their financial freedom, the mailer invited them to "foresee" an additional $830+ in savings once they take advantage of special Hillrom employee offers. Robust website resources and fast convenient service accompany all direct mail initiatives.
BCU's third award-winning entry was their 2021 Earth Day campaign. Winning the gold prize, the campaign included a Facebook post and animated video promoting Earth Day and offering members a chance to win one of ten $100 deposits when they joined the Credit Union and enrolled in eDocuments. "With our promise to be Here Today For Your Tomorrow, it only makes sense to support initiatives that ensure a more sustainable future," said BCU Director, Creative Development and Communication, Kourtney Ross. "By launching the project on Earth Day, we aimed to eliminate paper waste and help reduce carbon dioxide emissions, all while helping members reach their financial goals." View BCU's winning entries here.
About BCU: BCU is a purpose-driven organization that empowers people to discover financial freedom. With $5B in assets, while being both not-for-profit and member-owned, the Credit Union is driven by the commitment to provide extraordinary service. BCU members enjoy access to financial services and well-being programming that inspire confidence through the brand promise "Here Today For Your Tomorrow." BCU is the financial well-being benefit partner for some of America's best companies, currently serving Fortune 100 workplaces throughout the United States and Puerto Rico. Lifetime membership is offered to employees and families of their company partners, and those living or working in Chicago-area communities. To learn more about BCU, visit BCU.org.