BCU Celebrates Expansion of Añasco, Puerto Rico Office
April 19, 2022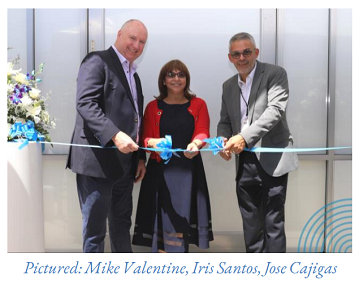 Chicago - On March 23, 2022, BCU celebrated the expansion of its Bianca facility in Añasco, Puerto Rico. With over 35 years of history on the island and having grown at a rapid pace over the last several years, an expansion of the Credit Union's central Puerto Rico office was necessary to better serve members. Today, BCU's footprint spans the island with eight Branch offices conveniently serving 35,000 members and prominent local companies such as Baxter, Stryker, GlaxoSmithKline, CooperVision, Edwards Lifesciences and many more. "To think that two offices with just ten employees would turn into eight offices, including a call center, is incredible," said Mike Valentine, BCU President and CEO. "It's, undoubtedly, a sign of the culture, the people and the work ethic on the island."
The Bianca building houses several of the Credit Union's Puerto Rico operations teams, as well. The expansion will produce nearly 80 new jobs, bringing BCU's headcount in Puerto Rico close to 200 employees. "Our commitment to Puerto Rico is to be part of the solution and contribute to the economic development of the country," said BCU Vice-President of Puerto Rico Operations Jose Cajigas. "40% of BCU's US and Puerto Rico call center employees are in Bianca along with other representatives from our Collections, Operations, Marketing and Information Technology teams," Cajigas continued.
In attendance of the inaugural event was Deputy Secretary of Economic Development Iris Santos. "I'm so pleased to hear what BCU is doing for our community," said Santos. "I firmly believe that the best asset the island has is our people – those at BCU serving the community and those that serve the Credit Union as local supporters – they have enabled the growth BCU has accomplished throughout the years."
BCU is committed to the Puerto Rican people. During Hurricane Maria, the Credit Union was one of the few financial institutions able to start operating as early as the day after the storm hit. This is due to the corporation's commitment to the well-being of its employees, partners and members. With the addition of solar panels after the hurricane and the recent expansion of solar panel coverage on the building, Bianca is reinforced with power technology and other disaster-prevention enhancements. "Contributing to the environment by moving into renewable energy is critical for our future and will support BCU's presence in Puerto Rico by allowing them to be more cost-competitive and resilient," said Santos.
"I can't wait to see where this expansion will take us in the future," said BCU Director of Puerto Rico Operations, Edwin Plaza, "but I know it sets us up for the same continued growth and success we've seen over the last four decades – empowering us to support the broader island and continue providing the Credit Union's trademark service to members."
About BCU: BCU is a purpose-driven organization that empowers people to discover financial freedom. With $5B in assets, while being both not-for-profit and member-owned, the Credit Union is driven by the commitment to provide extraordinary service. BCU members enjoy access to financial services and well-being programming that inspire confidence through the brand promise "Here Today For Your Tomorrow." BCU is the financial well-being benefit partner for some of America's best companies, currently serving Fortune 100 workplaces throughout the United States and Puerto Rico. Lifetime membership is offered to employees and families of their company partners, and those living or working in Chicago-area communities. To learn more about BCU, visit BCU.org.