BCU President and CEO Mike Valentine Part of Compassionate Leadership Movement
April 6, 2022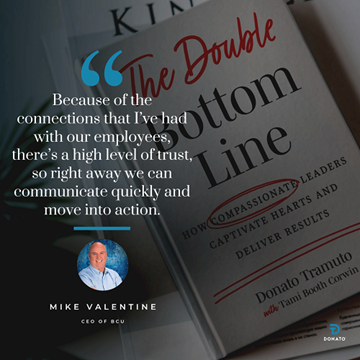 Chicago - BCU President and CEO Mike Valentine's charismatic and empathetic leadership style has continually guided him, and BCU, to tremendous success. Most recent is Valentine's appearance in American healthcare executive, global health activist, author and former CEO of Tivity Health, Donato Tramuto's new book, "The Double Bottom Line: How Compassionate Leaders Captivate Hearts and Deliver Results" in which Tramuto interviews forty successful leaders who practice compassionate leadership. "I'm honored to be part of the movement for compassionate leadership. Everything this book stands for is so personal to me," said Valentine. With this publication, Tramuto analyzes the compassionate leadership gap to redefine what it means to be a leader.
Valentine appears alongside many other influential and compassionate leaders such as founder and CEO of Sharecare and founder of WebMD, Jeff Arnold; Congressman Joe Kennedy; Diane Munson, president of Caremark; Katie Couric; Bruce Broussard, CEO of Humana; Dr. Sandro Galea, Dean at Boston University School of Public Health, Thasunda Duckett, CEO, TIAA, Dr. Craig Samitt, president and CEO of Blue Cross and Blue Shield of Minnesota, and more.
"The Double Bottom Line: How Compassionate Leaders Captivate Hearts and Deliver Results" is available now.
About BCU: BCU is a purpose-driven organization that empowers people to discover financial freedom. With $5B in assets, while being both not-for-profit and member-owned, the Credit Union is driven by the commitment to provide extraordinary service. BCU members enjoy access to financial services and well-being programming that inspire confidence through the brand promise "Here Today For Your Tomorrow." BCU is the financial well-being benefit partner for some of America's best companies, currently serving Fortune 100 workplaces throughout the United States and Puerto Rico. Lifetime membership is offered to employees and families of their company partners, and those living or working in Chicago-area communities. To learn more about BCU, visit BCU.org.