BCU Among Early Contributors to the National Credit Union Foundation FinHealth Fund
March 30, 2022
Chicago - In January, The National Credit Union Foundation announced its FinHealth Fund – a fund designated for improving financial well-being for all by scaling existing work across the credit union movement. BCU is proud to join CUNA Mutual Group, Coastal FCU, Local Government FCU and Redwood CU as early contributors to the fund. With an initial donation of $250,000, the Credit Union aims to help the fund reach its goal of raising $10 million over the next five years.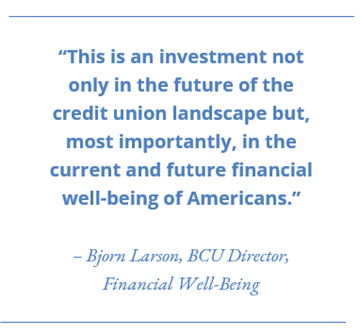 "The FinHealth Fund represents everything BCU stands for," said Mike Valentine, BCU President and CEO. "Credit unions have a responsibility to ensure financial well-being for all and we're honored to be part of an initiative that does just that." The fund aims to create a national resource library to help credit unions embrace financial well-being as a strategic imperative. It also seeks to provide education for credit union employees to establish a passionate workforce and supports industry-wide consumer research to prioritize efforts to improve members' financial health.
As a financial well-being provider for those living or working in Chicago-area communities, and some of America's best workplaces such as Target, GEICO, HCA Healthcare and more, BCU has long been invested in Empowering People to Discover Financial Freedom. BCU Executive Vice-President and Chief Financial Officer CJ Presto said, "We've seen first-hand how our own financial well-being efforts have helped our members discover financial freedom. To have the opportunity to make a broader impact by supporting the fund was the next logical step in upholding our purpose."
This fund will help bolster the credit union industry, providing organizations with the tools and resources they need to place a strategic focus on financial well-being. Bjorn Larson, BCU Director, Financial Well-Being, summarized BCU's contribution, stating, "This is an investment not only in the future of the credit union landscape but, most importantly, in the current and future financial well-being of Americans."
About BCU: BCU is a purpose-driven organization that empowers people to discover financial freedom. With $5B in assets, while being both not-for-profit and member-owned, the Credit Union is driven by the commitment to provide extraordinary service. BCU members enjoy access to financial services and well-being programming that inspire confidence through the brand promise "Here Today For Your Tomorrow." BCU is the financial well-being benefit partner for some of America's best companies, currently serving Fortune 100 workplaces throughout the United States and Puerto Rico. Lifetime membership is offered to employees and families of their company partners, and those living or working in Chicago-area communities. To learn more about BCU, visit BCU.org.