BCU Puts Member Financial Well-Being Over Short-Term Return With ODP Enhancements

December 22, 2021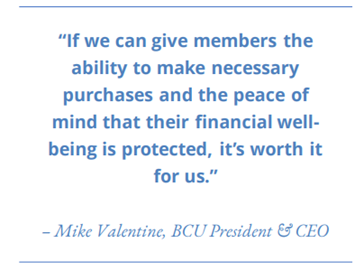 Chicago – On November 1, 2021, BCU increased their overdraft protection (ODP) negative grace balance from -$20 to -$100, saving members over $3.7M annually. This change is yet another step toward fulfilling their Purpose of Empowering People to Discover Financial Freedom.

Members enrolled in the Credit Union's Courtesy Payment Service program can overdraw available funds in their account. With the new ODP extension, members will not be charged an overdraft fee unless their balance falls below -$100. Most importantly, it prevents transactions from being declined. "Those who occasionally take advantage of the Courtesy Payment Service program will rarely see fees; and those who more heavily rely on the program will have more wiggle room and won't have to worry about transactions being declined," said BCU Vice President of Deposits and Payments, Maggie Garcia.

With a strategic focus on member financial well-being, the ODP decision was not taken lightly. "We weighed several options and decided that increasing the negative grace balance is a solution that will benefit all 65,000+ members who are opted into the program. It just made sense, as we put our members first in every decision that we make," said Garcia.

Member behavior and use of the Courtesy Payment Service program influenced the Credit Union's decision to increase the negative grace balance and allow payments to post without the risk of being declined. "Our ODP program guidelines no longer aligned with the average transaction amount we were seeing from members leveraging this program," continued Garcia. "This improvement ensures that members aren't inconvenienced by fees for smaller purchases or declined transactions, preventing them from taking desperate measures to receive emergency funds - and potentially damaging their financial well-being in the long term."

"As a not-for-profit institution, we have no interest in relying on overdraft fees. With an increased awareness of overdraft fee scrutiny and our promise to be Here Today For Your Tomorrow, we knew it was time to accelerate our existing roadmap to improve our overdraft protection offerings," said Mike Valentine, BCU President & CEO. "If we can give members the ability to make necessary purchases and the peace of mind that their financial well-being is protected, it's worth it for us. Bottom line, it's the right thing to do for our members."

The Credit Union's most recent ODP program enhancement is only the second phase of a three-phase plan; the first phase consisting of an initial grace balance increase back in November of 2019. BCU members can look forward to continued improvements to the Courtesy Payment Service program in the coming years.

To opt in to BCU's Courtesy Payment Service, eligible members can log into Digital Banking and select the Courtesy Payment widget, visit their local Branch or contact a Credit Union member service representative.
About BCU: BCU is a purpose-driven organization that empowers people to discover financial freedom. With $5B in assets, while being both not-for-profit and member-owned, the Credit Union is driven by the commitment to provide extraordinary service. BCU members enjoy access to financial services and well-being programming that inspire confidence through the brand promise Here Today For Your Tomorrow. Lifetime membership is offered to employees and families of America's best workplaces and those living or working in Chicago-area communities. To learn more about BCU, visit BCU.org.