BCU 's Promise "Here Today For Your Tomorrow" Takes on New Meaning With Green Energy Initiative
February 1, 2022
Chicago - BCU's Bianca Branch has gone green, installing solar panels on the rooftop of the newly-expanded branch after Hurricane Maria devastated Puerto Rico in 2017. Although, luckily, the building sustained no physical damage from the storm, electricity and fuel were hard to come by once the skies cleared.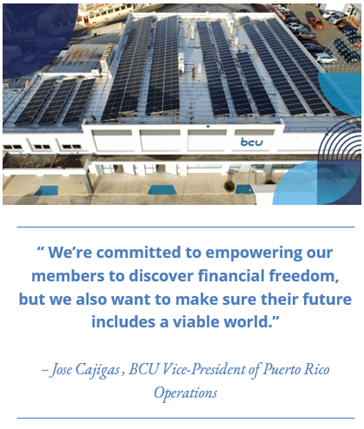 The leadership team learned so much from the hurricane's aftermath and turned that lesson into a solar-powered solution.
"Implementing solar panels just made sense," Jose Cajigas, BCU Vice-President of Puerto Rico Operations, said. "It's an easy way to reduce our carbon footprint and help make a positive change for our future. We're committed to Empowering People to Discover Financial Freedom, but we also want to make sure the future includes a viable world."
Edwin Plaza, BCU Director of Puerto Rico Operations added, "The solar panels have helped us offset three tons of carbon each month. That's equal to planting almost 80 trees. Plus, our monthly energy bill has decreased substantially, and we are selling unused kilowatts back to the utility company."
Because the Branch has seen so much success with this initiative, the staff are encouraging members to embrace solar energy and enjoy those savings, as well. To aid in this effort, the Bianca Branch continues to offer promotions on solar panel loans as more homeowners on the island make the switch to solar energy.
"If Maria taught us anything, it's that we need to be there for our employees and members even in the midst of a natural disaster," said Cajigas. "Our buildings have always been strong, but with solar energy, we now have the infrastructure to ensure we'll remain up and running the next time a hurricane hits."
He continued, "We don't just say, 'We're Here Today For Your Tomorrow.' We are living it every day."
About BCU: BCU is a purpose-driven organization that empowers people to discover financial freedom. With $5B in assets, while being both not-for-profit and member-owned, the Credit Union is driven by the commitment to provide extraordinary service. BCU members enjoy access to financial services and well-being programming that inspire confidence through the brand promise Here Today For Your Tomorrow. Lifetime membership is offered to employees and families of America's best workplaces and those living or working in Chicago-area communities. To learn more about BCU, visit BCU.org.
< Previous Article | Next Article >