BCU Announces Winner Of $24K "PAY MY MORTGAGE" Sweepstakes
September 24, 2021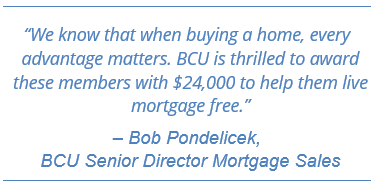 CHICAGO – September 24, 2021 – Congratulations are in order as BCU President and CEO, Mike Valentine, awards $24,000 to Vuth and Mary Ann, first-time homebuyers and winners of the $24k Pay My Mortgage Sweepstakes.

Mike made a video call to the couple to announce the news that they had won. The surprise quickly turned to excitement as Vuth told Mike, "I got started with BCU when I was at Target, and the service they provide is just awesome. It's a great Credit Union overall. We love BCU!"


Additionally, Mary Ann spoke of their recent experience purchasing their home, "The HomeAdvantage program was helpful. We're brand new home buyers so it was really nice to get a referral to a great real estate agent who took care of us every step of the way."


"We know that when buying a home, every advantage matters. BCU is thrilled to award these members with $24,000 to help them live mortgage free, and empower them to achieve financial freedom," says Bob Pondelicek, Senior Director, Mortgage Sales.


BCU members who registered for the HomeAdvantage program, and were approved for a mortgage with BCU during the promotional period were automatically entered into the sweepstakes. HomeAdvantage offers tools and resources to help its users search for homes and get connected with real estate agents. Additionally, HomeAdvantage has helped members earn an average of $1,771 in cash rewards!


In 2020, BCU members who used the HomeAdvantage® service earned $1 million in rewards in a single year allowing BCU to become the first credit union in history to hit that milestone. BCU is proud to have delivered over $5 million in real estate commission rebates to members since the inception of the HomeAdvantage® program.
About BCU: BCU is a purpose-driven organization that empowers people to discover financial freedom. With over $4.9B in assets, while being both not-for-profit and member-owned, the Credit Union is driven by the commitment to provide extraordinary service. BCU members enjoy access to financial services and well-being programming that inspire confidence through the brand promise "Here Today For Your Tomorrow". Lifetime membership is offered to employees and families of America's best workplaces and those living or working in Chicago-area communities. To learn more about BCU, visit BCU.org.
< Previous Article | Next Article >