Thomas Hodson Retires From BCU Board of Directors After Four Decades of Service
September 17, 2020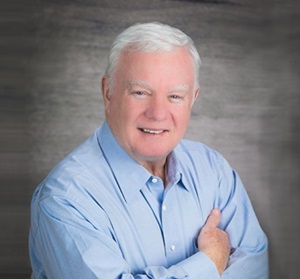 Thomas Hodson Retires From BCU Board of Directors After Four Decades of Service
BCU announced the retirement of Thomas W. Hodson, whose service on the Credit Union's board of directors spanned nearly four decades.
Serving in various positions since 1981, Hodson began his tenure as charter board member of Travenol Employees' Credit Union, later to be named Baxter Credit Union (BCU). Since then, Hodson has served as chairman of the board and held every board officer role, including chair of the Finance Committee, Supervisory Committee, Executive Committee, and the Nominating and Governance Committee.
"We are immensely grateful for the advocacy and expertise that Tom has provided to our leadership team and his fellow board members over the past forty years," said Mike Valentine, BCU President & CEO. "Tom's influence is woven into the DNA of BCU, and there has been no bigger advocate for the Credit Union."
In recognition of Hodson's outstanding service, BCU introduced the Thomas W. Hodson Leader of Tomorrow Award in 2020, an annual scholarship that recognizes an incoming college freshman who demonstrates strong academic leadership and achievement.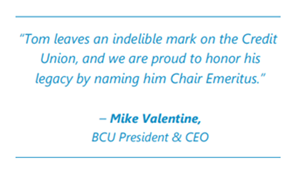 In addition to serving on BCU's board of directors, Hodson has led a distinguished career in the financial and healthcare/pharmaceutical industries.
Thomas W. Hodson named BCU's Chair Emeritus
He has served as an operating partner at Baird Capital Partners, chairman and chief executive officer of NeuroSource Inc., and senior vice president, CFO, and director of Caremark International, Inc. Prior to holding executive leadership roles, Hodson spent nearly 20 years at Baxter International in positions including senior vice president and treasurer.
"A thank you is simply not enough to express our gratitude for Tom's service and invaluable guidance," said Valentine. "Our Credit Union family is deeply indebted to Tom, and his wife, Connie, for their time and unwavering commitment to the BCU organization throughout the past 39 years."
Hodson retires with the title of Chair Emeritus and will participate in future board planning meetings.
Under Hodson's leadership, BCU was named to the annual Forbes list of Best-In-State Banks & Credit Unions for the second consecutive year in 2020, ranking #1 in Illinois and #5 in Minnesota. Members voted BCU to the top spot based on overall satisfaction, trust, service, product offerings, and financial well-being resources.