BCU Named #1 Credit Union in Illinois and #5 in Minnesota by Forbes
July 1, 2020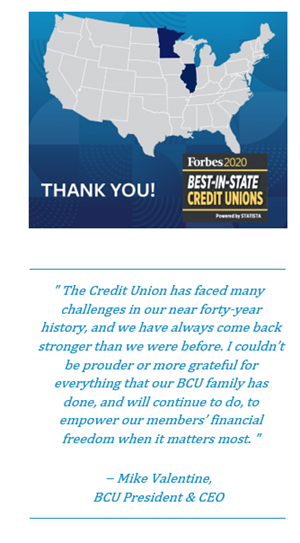 For the second consecutive year, BCU has been named to the annual Forbes list of Best-In-State Credit Unions, ranking #1 in Illinois and #5 in Minnesota for 2020.
With a large majority of the economy in financial hardship following COVID-19, financial institutions across the country have stepped up their game to deliver important relief options for their members. With over 180 credit unions in the US and more than 120 million members nationwide, credit unions making the list went above and beyond to deliver extraordinary member experience and support.
"Even amidst our current pandemic, BCU continues to reach new heights – something made possible by our incredible employees, members, and Company Partners," said BCU President & CEO Mike Valentine.
The acknowledgement follows BCU's ongoing commitment of Empowering People to Discover Financial Freedom throughout the coronavirus pandemic. Taking quick action, BCU teams stood-up the Credit Union into a remote operation of more than 650 employees in just days, expediting the distribution of new equipment, new technology, and a new normal – protecting employee well-being and ensuring members had reliable service.
Within days, the Credit Union had activated its emergency financial relief protocol, as it has done many times before, providing members with immediate financial relief through emergency loan assistance, loan payment deferral, and waiving fees. Additionally, BCU worked swiftly to stand-up several new digital tools and resources, including a dedicated COVID-19 Relief online resource portal, BCU Assist SMS, and AI web chat feature.
"The Credit Union has faced many challenges in our near forty-year history, and we have always come back stronger than we were before," said Valentine. "I couldn't be prouder or more grateful for everything that our BCU family has done, and will continue to do, to empower our members' financial freedom when it matters most."
Apart from its COVID-19 relief efforts, BCU continues to offer competitive products, rates, and complimentary financial well-being coaching through BCU Goal Consultants and the CUNA Financial Counseling Certification Program (FiCEP). The Credit Union is also passionate about partnering with America's best workplaces and is excited to officially merge with GEICO Federal Credit Union in August 2020.
Selection for the Forbes Best-In-State Credit Unions list is based off a third-party survey from market research firm Statista. More than 25,000 people in the US were surveyed on their banking relationships. Criteria for selection included overall satisfaction as well as trust, terms and conditions, branch services, digital services, and financial advice. See the complete list of Forbes Best-In-State Credit Unions.