Margot Feldman Kaplan Retired BCU Chair Paves Way to a Bright Financial Future
March 1, 2019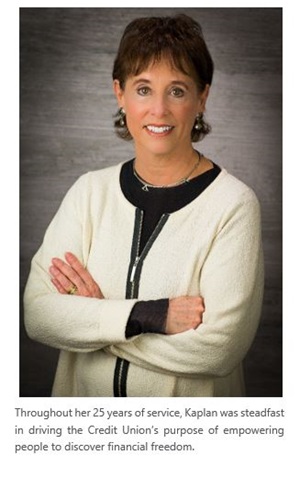 BCU announced the retirement of esteemed board member Margot Feldman Kaplan at the Credit Union's annual board meeting on March 20, 2019.
The announcement celebrates a legacy of service that spans over 25 years. During this period, Kaplan's leadership helped grow the Credit Union's membership beyond its beginnings with Baxter Healthcare to include employees of outstanding Company Partners including Target, UnitedHealth Group, Boston Scientific and more. During Margot's time on the Board, BCU assets grew from $300 million to $3.4 billion.
Kaplan's journey with the Credit Union began in 1994 and included serving as Chair from 2004-2015. Her expertise in business strategy, change management and process improvement have been invaluable to the Credit Union's growth and success. The principal and founder of Feldman-Kaplan Consulting, Kaplan specializes in executive coaching, team building, conflict resolution, performance management, organizational assessment and workforce strategy. Kaplan also provides guidance with managing change and developing and executing performance management strategy.
Kaplan's energy and efforts extend beyond her professional accomplishments. A passionate philanthropist, Kaplan seeks to strengthen education, economic empowerment and social action serving as an advocate for multiple organizations, including the Cancer Wellness Center and Court Appointed Special Advocates (CASA).
"BCU's achievements are a credit to the guidance of our Board of Directors and volunteers. Along with our sincere gratitude to all those involved, we'd especially like to thank outgoing board member and former Chair, Margot Kaplan," Mike Valentine, BCU President & CEO said. "Stepping away in 2019, Margot leaves a legacy of helping to establish BCU as a leader in the industry, providing invaluable expertise to the board, and tirelessly advocating for the membership."
< Previous Article | Next Article >