Jim Block Appointed BCU Executive Vice President, Chief Operating Officer
November 1, 2019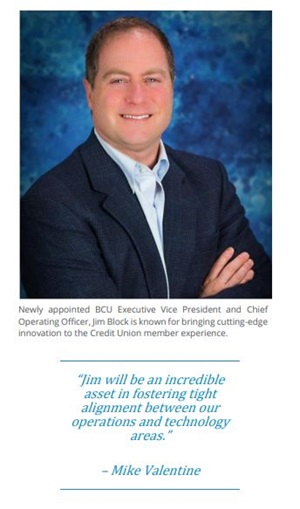 BCU announced the promotion of Jim Block to executive vice president and chief operating officer. Previously serving as senior vice president and chief lending officer, Block's expertise in operational excellence has been a driving force in providing extraordinary service to Credit Union members.
"Successfully aligning business and technology has never been more important in today's digital age," Mike Valentine, BCU President & CEO said. "With his deep knowledge of BCU operations and almost a decade of experience in IT, Jim Block will champion that partnership at BCU."
Beginning his career with BCU in 1995, Block has been foundational in structuring BCU's consumer lending function. A leader in operations, Block's strategic guidance helped grow Credit Union assets to $3.8 billion over the last two decades. Under Block's leadership, BCU has been recognized as a Forbes Best-In-State Credit Union and as a leader in lending within the credit union industry.
Previously serving as a consultant specializing in custom software solutions and as IT program manager responsible for BCU's project management office, Block's success originates from nearly ten years in the technology industry. For nearly 25 years, Block has helped shape BCU's strategy and leveraged technology to drive operating results across the loan and deposit product lines, including consumer, commercial, and real estate lending, deposits, and ATMs.
In collaboration with executive vice presidents Tom Moore and Lisa Baron, Block will be responsible for critical business decisions on the senior leadership level in consultation with BCU's board of directors.
Beyond his role at BCU, Block is an active leader in the credit union industry and serves on multiple advisory boards, including chairman of the CUNA Lending Council executive committee and member of PSCU's marketing advisory group. Block also volunteers as an alumni council member for Northwestern University and recently served as team captain to BCU employee volunteers in support of Habitat for Humanity's 30th Anniversary Season.
"As BCU positions itself for 2020 and beyond, our technology must be aligned with product and service delivery to increase our efficiency and meet members' expectations for a frictionless experience," Valentine said. "Jim will be an incredible asset in fostering tight alignment between our operations and technology areas. It is my pleasure to announce his promotion to executive vice- president, chief operating officer."