Betty Larson Joins BCU Board of Directors
July 2, 2019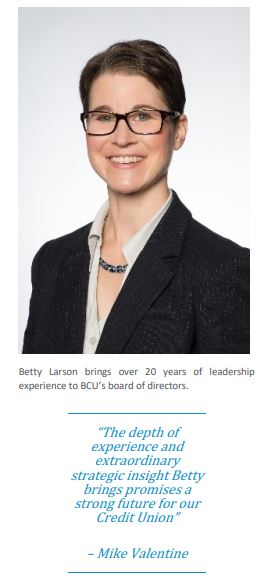 BCU announced the election of Betty Larson to its board of directors. "We are delighted to welcome Betty Larson to our board of directors," Mike Valentine, BCU President and CEO said. "The depth of experience and extraordinary strategic insight Ms. Larson brings promises a strong future and continued success for our Credit Union."
Larson first learned about the value BCU offers the employees and families of great companies in 2001 when she was a human resources director with Baxter International. Currently, Ms. Larson is executive vice president and chief human resource officer for American medical technology company, BD (Becton Dickinson).
A champion of organizational development, Larson has held integral positions in various business segments, working extensively with commercial, operational, and research & development organizations. She previously served as global vice president of human resources for Bard, and senior vice president of human resources for BD's Interventional Segment in Greater Asia.
With more than 20 years of strategic experience in the healthcare industry, Larson's thought leadership includes succession planning, managing high-performing cross functional teams, and organizational effectiveness. Ms. Larson holds a bachelor's degree in psychology and a master's degree in human resources from the University of Illinois, as well as an MBA from Northwestern University.
In addition to serving on BCU's board of directors, Larson actively supports the Overlook Foundation, helping to fuel critical and innovative programs and technologies for the Overlook Medical Center.