BCU Grows Puerto Rico Operations with New Bianca Facility
July 10, 2019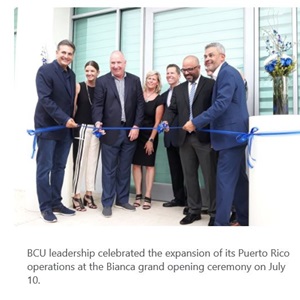 BCU officially unveiled the expansion of its Puerto Rico operations at the grand opening ceremony of the Credit Union's new Bianca facility in Anasco. Located on the west end of the island, the new Bianca facility is part of the Credit Union's larger strategy to expand back-office support in Puerto Rico.
"BCU's operations in Puerto Rico have been an enormous success, prompting the opportunity for growth," Jose Cajigas, BCU vice president of branch operations in Puerto Rico said. "A collaborative decision was made by the Credit Union's leadership to add additional service and support positions at the Bianca facility and bring more job opportunities to the island."
A presence in Puerto Rico for over 30 years, BCU has more than 35,000 members on the island and is a familiar face to many residents. "BCU is more than just a credit union. We're a part of the communities we serve," Cajigas said.
Beginning with just eight employees in Bianca, the Credit Union now has over 50 staff at locations across the island. With the addition of 20 new service positions, the expanded Bianca facility will provide key support in helping to serve BCU's more than 250,000 members across the United States and Puerto Rico.
Located adjacent to the existing branch, the new Bianca facility features an additional 5,000 square feet and will be powered through a solar-energy system.
"We are confident this exciting new development and the passion of our employees will continue to create exceptional member experiences," said Cajigas. "I'm so excited we've recognized the opportunity to grow in Puerto Rico."